We have the winners for 2023!
The Doc Alliance Alliance Award winners announced at DokuFest Prizren.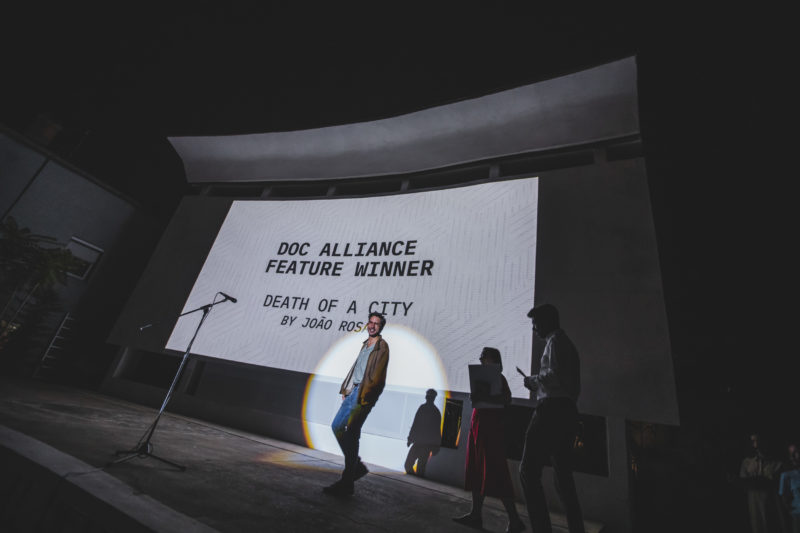 The winners of the Doc Alliance Award 2023 have been announced on August, 12th at the closing ceremony of DokuFest in Prizren.
The Doc Alliance Award for Best Feature Film, endowed with 5,000 EUR, went to "Death of a City" by João Rosas. The film follows the demolition of an old printing workshop in the center of Lisbon to make way for luxury flats. What starts out as a work-centred film turns out to be an evocative account of the director's relationship with his hometown and the people who build it – a polyphonic narrative made up of their stories of labour and migration, shining a light on the violence and destruction that hide under the progress of our cities.
Director João Rosas talks about the film:
The jury commended the director "for an intelligently politicised work and its salutary portrayal of the lives of the people therein, an incisive and moving exploration of the face of modern Europe."
The Doc Alliance Award for Best Short Film, endowed with 3,000 EUR, went to "The Cervix Pass" by Marie Bottois. In her film, the director refers to the founding of the MLAC (Movement for Abortion and Contraception Freedom) in France in 1973. In the style of militant and feminist films of the time, she documents the insertion of an intrauterine device inside her own body.
Director Marie Bottois talks about the film:
The jury praised the film's "ability to organize a moving and playful coexistence between life and cinema. Marie Bottois combines in a remarkable way political and cinematographic rigor, courage and humor, frontality and delicacy."
The winning films were selected by a jury of three film professionals with different experience in the industry: Jonathan Ali, a programmer and curator (Locarno Film Festival, Open City Docs, True/False Film Fest, Sheffield DocFest and Third Horizon Film Festival), Anna Berthollet, CEO at Lightdox (sales and distribution) and programmer Arnaud Hée (Bibliothèque publique d'information du Centre Pompidou).
"Disturbed Earth", a feature-length documentary by Kumjana Novakova and Guillermo Carreras-Candi, received a Special Mention by the jury. The film was nominated by DokuFest, this year's guest festival of Doc Alliance.
Director Kumjana Novakova talks about the film:
A selection of the nominated films is now available to watch on Doc Alliance's online platform, DAFilms.com.